Ceglie Messapica is a city of Art and a land of gastronomy and is among the most ancient Apulian cities. The area around it is characterized by trulli,large farms, century-old olive tree groves, and more, or less extensive green areas, made of oak and Mediterranean scrub woods. Ceglie develops on two hills, one of them completely occupied by the Medieval historic centre and is dominated by the Ducal Castle, the Collegiate and the XIX century districts. Whoever visits Ceglie can enjoy not only suggestive glimpses on the Apulian countryside, but also architectonic magnificences, that bring us back in time.
To be seen
On top of a hill raises the Ducal Castle and beside it stands out the Norman Tower. At the behest of the Sanseverino Family, in the XV Century, the manor house acquired the traits of a noble abode, adorned with noble standards and frescos.
In Plebiscito Square, the very heart of the town, raises the Clock Tower
In the Old Town deserve mention Allegretti Palace that,overlooking the Old Square, hosts the Emilio Notte Art Gallery and the Municipal Library; Epifani Palace, near the castle and Vitali Palace ashlar.
The Collegiate Church, which was originally built on the footprints of the Acropolis and then acquired a Baroque style.
The "Paretone", the ancient defensive bastion, which embraced- with its majestic walls-the Messapic nucleus of Ceglie.
The Municipal Theatre, with its charming Neoclassical style and with an entrance characterized by a round arch and Baroque shade decorations.
Montevicoli Caves, 1km far from Ceglie and dropped with stalactites and stalagmites.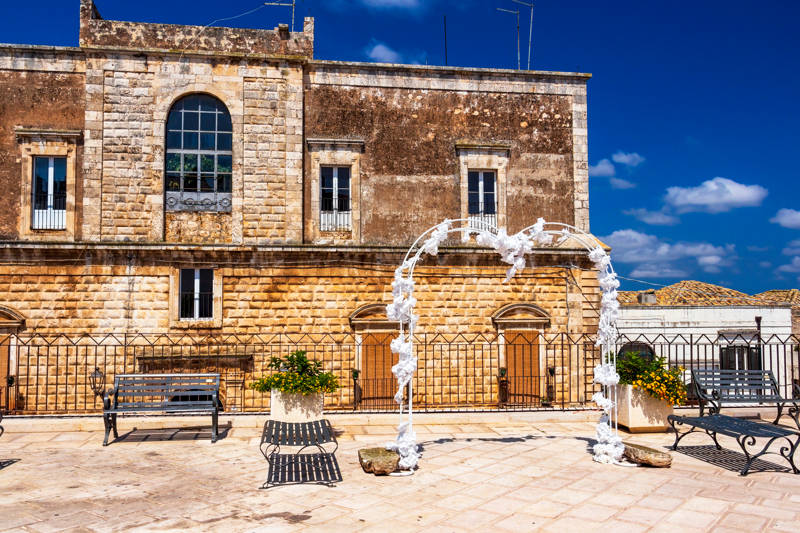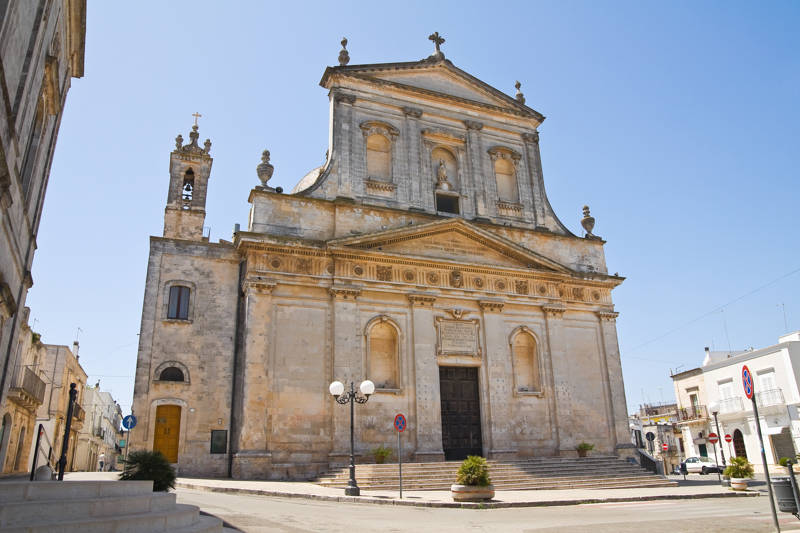 Main events
Celebration of S. Antonio,on June 13th, the same day of the liturgical celebration. On this day, Plebiscito and S. Antonio Squares,Garibaldi Avenue and S. Rocco Street all are decorated with artistic illuminations. Inside the sound box, built for this occasion in Plebiscito Square, take place band concerts. On 13th June morning, the band who will accompany the evening procession, moves along the streets of the town,playing joyful music. At the end of the band concert, starts the pyrotechnic show that closes the Celebration.
Traditional Plays Festival, it takes place in Ceglie Old Town, at the end of June.
Ceglie Food Festival, in August.
Ceglie Summer, in July and August.
UNMISSABLE: The typical biscuit of Ceglie, which is called in dialect "Piscquɘttɘlɘ",strictly handmade. This little pastry is made of toasted almonds dough and has the shape of an uneven little cube,filled with cherry, or grapes marmalade and aromatized with citrus fragrance.