Picturesque and all to be discovered, the White City boasts a wonderful Medieval hamlet, full of little streets and houses,whitened with lime, that develop themselves as a labyrinth, reminding an Arabian Casbah. The houses climb on the steep hillsides; Ostuni is also characterized by a maze of curvy streets, a sequence of little squares, alleys and courtyards. The lower part of the town is surrounded by ancient walls,where there are the only two entrances to the town, which are also intact: Nova Door and S. Demetrio Door.
To be seen
The symbolic monument of Ostuni,the refined steeple of S.Oronzo, placed in Libertà Square, in the very heart of the Old Town.
In Blessed Giovanni Paolo II Square (also known as Cathedral little square), face the XVIII Century Bishop Palace and the Palace of the Old Seminary, linked by the suggestive Scoppa Arch.
On top of the hill, raise the XV Century Cathedral of Ostuni, with its big 24-rays rose window; the Bishop Palace and the Old Seminary.
Interesting are also the Medieval Church of S. Francesco and the Church of S. Vito Martyr: it is also the seat of the South Murgia Archeological Museum, where important ruins, dated back to Paleolithic and Neolithic are preserved.
The countryside of Ostuni is scattered with large farms and many of them have been converted into holiday farms and luxurious resorts, such as S. Caterina fortified large farm, with its high octagonal tower, Lo Spagnuolo and Cappuccini large farm, with its trulli.
Along the Coast, from Torre S. Leonardo, to Morelli beach club, lay out the Coastal Dune Natural Park, that also includes a moist area, with salty little lakes, fossil dunes and a part of gullies, which flow into the sea.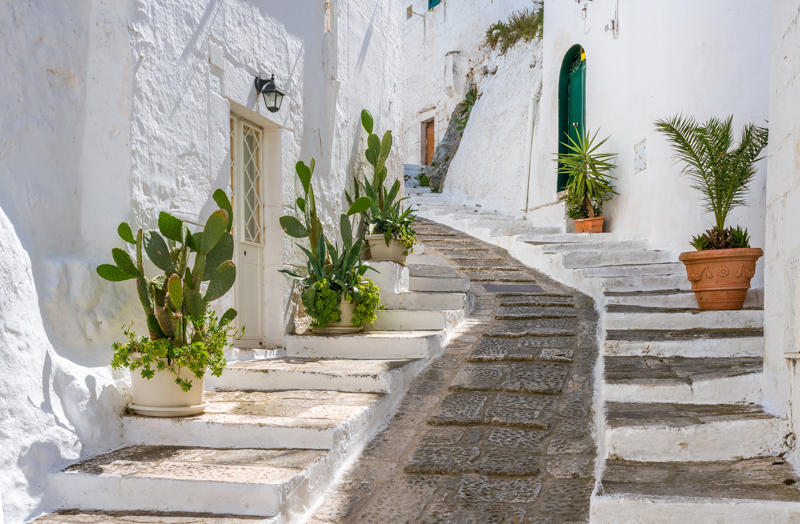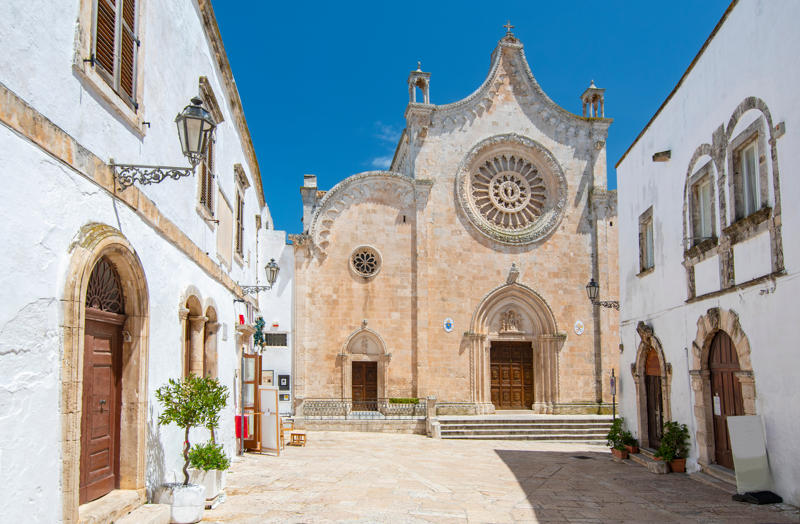 Main events
S. Oronzo Celebration: Celebration of the Patron Saint of Ostuni,from 25 to 27 August.
Celebration of Madonna della Nova, with the performances of local folkloristic groups, playing traditional dances.
The Antiques and Modern antiques Exhibition: it takes place every second Sunday of the month.
Autumn Alleys: it takes place through the streets of the Old Town of Ostuni, where street bands, Carvinati flag-throwers, together with dancers and street artists perform.